December 6 Tour of the TMS - Part 1.
A few of us took tours through the TMS today.  This wasn't a planned thing.  It just happened.
Some of us took pictures and others of us did not.
This post will cover sites mostly in the eastern portion of the play, while another post I will get up tomorrow will cover sites mostly in the west central portion of the play.
I'll share what we learned and include pictures where available.
Despite these two lengthy posts covering a large portion of the play, note that we didn't cover the entire TMS.
The message is the TMS is still quite active as of this weekend.
To begin, workers at the Goodrich B Nez 41H site, located about 8 miles east of Kentwood on Hwy 38 in Tangipahoa Parish, were driving something into the ground.  Here's a pic.  If you know what it is, feel free to share.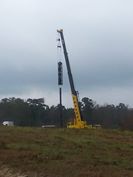 The Encana Mathis 29 site was a beehive of activity as workers were finishing the task of moving to the Encana Lawson 25 site.  The Lawson site was likewise busy setting up.
The Encana Stewart/Bergold had some workers and equipment apparently working to take some exciting final steps.
The Comstock Meeks HZ-1 well in St. Helena Parish, located off of Martin Lane, continues to patiently await a rig.
H&P Flex 3 Rig #249 was drilling away at the Goodrich Kinchen 58H-1 site, located a mile north of Kentwood on Hwy 1053.  A closer view of the rig than the one published yesterday can be viewed below.
The move of the Trinidad Rig # 125 to the McIntosh/Reese site continued today, also.
As a final note, the water disposal facility west of Gillsburg has seemingly gotten a lot busier of late.
And, all of this was occurring while the McComb and Gillsburg Christmas parades were happily taking place and Alcorn University was beating Southern University to win the 2014 SWAC title.
Obviously, a very busy weekend.

And here is a link for Part 2!

http://tmshorizons.com/index.php/tms-news/2014-news/december/december-6-tour-tms-part-2/
What do you think about it?