Encana - What Sites are Next?
Encana is drilling away with two double well drills.  

The Ash 13H-1 and -2 wells are being drilled by Trinidad Rig # 124, while the Sabine 12H-1 and -2 wells are being drilled by Trinidad Rig # 125.

Though the Sabine 12H wells were spudded first, roughly 3 weeks were spent taking coring samples from the formation.  During this time span the Ash 13H wells have moved on ahead such that it is more likely today that the Trinidad Rig # 124 will finish the Ash 13H wells before the Trinidad Rig # 125 finishes the Sabine 12H wells.

Regardless of which rig finishes first, I expect both drilling operations to be wrapping up by mid to late September with one to spud a new well by late September and the other a new well by early October.

So, where are they headed next?  Rumors abound, but, to my knowledge, there are only 3 legitimate contenders, since there are only 3 sites ready to go and it would be tough to get more sites ready in such a short time frame..  

1. The Mathis 29-17H-1 well, which will be drilled from the same site as the Mathis 29-32H-1 well was drilled just a few short months ago, located south off of Bean Road.

2. The Lawson 25-13H-1, located in Downtown Gillsburg in Amite County on the same pad as the Lawson 25H-1 was drilled late last year into early this year.

3. Longleaf 29H-1 and -2 wells, another double well site, located southeast of Liberty.

My guess is the Mathis will be the next site.  The reason I'm going with this guess is that the Mathis and Lawson wells will likely be drilled by the same rig and will likely take a little longer to drill since a move will be involved between sites.

Meanwhile the Longleaf wells will be drilled more quickly due to time savings inherent in a multi-well drilling operation and the fact that a site move in between wells isn't necessary.

Since there are no other pads ready that I am aware, it only makes sense for the first rig to finish drilling (likely Trinidad 124) to move on a single well site and the Mathis appears more likely for several reasons, the simplest of which it will be closer.

BUT, there is no doubt the Longleaf 29H-1 and -2 site is ready and raring to go, as evidenced by the picture taken yesterday, August 15, 2014, as seen below.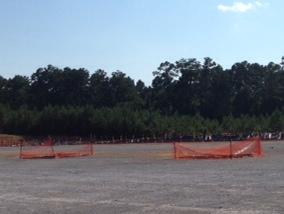 What do you think about it?