Friday Report 10-31-2014
TMS PRE-PRODUCTION UPDATE 10-31-2014

Wilkinson County:

Halcón Fassman 9H-1, truck access road is located off Hwy 61 onto Sam Leake Road, then to Whetstone. Well is flowing back from a 5,329 foot lateral, per MSOGB report.

Halcón Shuckrow 10H-1, located on Sam Leake Road about 5 miles east of Hwy 61 has finished drilling.  Fracking is complete. Should be flowing back.
 
Halcón S D Smith 1H, located on the Jackson Louisiana Road south of Woodville. H&P Flex 3 Rig# 249 completed a 7,556' lateral. Flowing back.  

Halcón George Martens 1H, located on the west side of the south lane of Hwy 61 south of Woodville a couple of miles. Spud 8-8-2014 and completed around the 8th of September.  Targeted lateral length was 7,000 foot.  I'm told Frac Tech is on site fracking this well.

Halcon Gaulden 1H, located on Louis Gaulden Road about 4 miles east of Hwy 33 roughly 3 miles south of Centreville. H&P Rig # 623 spud on September 10. Word is this well may have had some insurmountable drilling issues.
  
Halcon Creek Cottage West 1H.  H&P Flex 3 Rig #249 completed drilling this well earlier this week.  The rig has moved to the nearby Rogers well site. The Creek Cottage is located on Whitestown Road a couple of miles south of Hwy 24.  Awaiting fracturing operations.
Halcon Rogers 1H, accessed from Hwy 24 west of Centreville about 5 miles.  H&P Flex Rig # 249 spud (began drilling) 10-23-2014.

Goodrich CMR Foster Creek 24-13, access from Hwy 24 on Hiram McGraw Road to Macedonia Road, then to end of Helmer Road. Goodrich Petroleum announced on Monday, September 29, "The Company is currently conducting completion operations on its CMR/Foster Creek 24-13H-1 (97% WI) well in Wilkinson County, Mississippi, which has an approximate 6,600 foot lateral with 24 frac stages and should begin flowback within a week." Well results here will be made known at the 3rd quarter report, likely to be given in early November.
 
Goodrich CMR-Foster Creek 8-H-1 and 2, access from 24 on Hiram McGraw Road to Macedonia Road, then a mile or so down Helmer Road. Nabors Rig #624 spud -1 on 9-15 and spud -2 on 9-21.  No updated info…drilling away.

Comstock CMR Foster Creek 28-40 No. 1H, located on Will Floyd Road. Access appears to be south off of Hwy 563 on to Macedonia Road, then on to Netterville Road, then on to Will Floyd Road. Trinidad Rig #103 began drilling on August 14.  Whatever issues have occurred with this well, it is reportedly back drilling as of this week.

Sanchez Morris 1H, RAPAD Rig #31 spud October 13.  Accessed from the Pickneyville Road...Traveling west out of Woodville, turn north (right) just past the Old River water tank on to an otherwise private road. (Unless you have business at the oil site, please respect the privacy rights of the landowner.) Drilling away.
 
Amite County:

Sanchez St. Davis #1, accessed from Hwy 24 in Gloster, located down Kahnville Road about 6 miles southeast of Gloster. RAPAD Rig #31 spud 9-2-2014.  This well was drilled above the rubble zone in what may be a TMS record time of about 24 days with a lateral of 5,600'.  Fracturing operations should be wrapping up shortly, if not already.
Encana Ash 13H-1 and 13H-2, Located on the east side of Ash Road, accessed via Lower Centreville Road about 3 miles southeast of Centreville. Trinidad Rig # 124 spud July 21.  Both wells completed and awaiting fracturing, presumably as soon as Sabine fracturing operations are completed.

Encana Sabine 12H-1 and 12H-2, located off of Enterprise Road, south of Hwy 24 about 3 miles out of Liberty, access is from Hwy 48. Trinidad Rig # 125 spudded 12H-1 on June 20 and 12H-2 on June 23. Fracking operations is completed on one well and, after overcoming some issues, should be completed on the 2nd well today.  FTC International (a/k/a Frac Tech) has been doing the honors.

Goodrich Spears 31-6H-1 is located on the recently completed C H Lewis site pad on the west side of Bates School Road north of Gillsburg. Spud July 22. A 7,600 foot lateral has been fracked and began flowing back around mid-October. Results from this well should be given during the Goodrich 3rd quarter operations report.

Goodrich T. Lewis 7-38H-1 located from the same access road as the EnCana Lewis 7-18H-1 off of County Farm Road a mile or so north of the Lower Centreville Road, accessed off of the Greensburg Road, located about 6 miles south of Liberty.  Ensign Rig #753 should be moving on site once drilling is completed on Williams well in Tangipahoa Parish possibly

Encana Longleaf 29H-1 and -2, located off Tobias Lane off of Hwy 584 roughly 3 miles southeast of Liberty. Trinidad Rig # 125 spud -2 on September 30 and -1 on 10/4.  Both wells have had surface casing and intermediate cemented into place.  -2 is drilling into the lateral now.  Knock on wood…things are going very well on this double well drilling operation right now.

Encana Mathis 29-17H-1, located on the same pad as Mathis 29-32H-1 off of Bean Road west of Gillsburg in south Amite County.  Trinidad Rig # 124 spud October 17. Surface casing is in place and intermediate should be by early next week.

EnCana Lawson 25-13H-1, located on the same pad as the Lawson 25H-1 in Downtown Gillsburg, Mississippi.  Trinidad Rig # 124 may once again be serving as the Gillsburg Christmas Tree, but it is uncertain the rig will be on this pad or on the nearby Bergold/Stewart pad.

Pike County: A permit has been approved for 1 Sanchez unit and is pending for 2 units applied for by both Sanchez and VirTex.
St. Helena Parish:
Comstock Meeks 56 HZ-1, located on Martin Lane north of Hwy 38 off of Hwy 441, just south of the Mississippi line and the Encana Lawson 25H-1.  Trinidad Rig # 103, now located in Wilkinson County, may be headed to this site next, but no confirmation.
St. Tammany: Permit pending.
Washington Parish: Permits pending, site preps completed.  Note the latest permitted unit in Tangipahoa Parish, the Goodrich B-Nex 43H-1, will nose over into Washington Parish.
Tangipahoa:
Goodrich Verberne 5H-1, located south of Hwy 38 on Hwy 1061. Nabors X-17 spud 8-25.  As per Goodrich news release on 9-29, "Verberne 5H-1 (66% WI) well in Tangipahoa Parish, Louisiana... has an approximate 6,800 foot lateral and reached total depth within 29 days."  Apparently issues occurred after this report, but were finally resolved and production casing put in place.  Awaiting fracking.  Rig is moving to the Kent 41H site.
Goodrich Williams 46H-1 has the Ensign Rig #753 spud 9/11. Intermediate completed. Drilling at 16,735' as of 10/28. This rig will likely be moving the T. Lewis 7-38H-1 site in Amite County, but the nearby B-Nez 43H-1 appears ready to go, as well.  We shall see!
Halcon Franklin PST Prop H-1, H&P rig # 623, will be moving to the Franklin PST Prop H-1 site south of Osyka in the Greenlaw Field.  This site is east of Hwy 51 "behind Skinny's", I'm told.  Skinny's being an eating establishment well known to the area.
Goodrich Kent 41H-1, Nabors X-17 moving on site.  Should spud early next week. Site is located, I'm told on Monroe Stevens Road, accessed via Hwy 440/1057 to Hwy 1058 to B Brown Road, then to Monroe Stevens Road.
East Feliciana: Permits in process…
West Feliciana:

Halcon Walker drill, previously scheduled, has been delayed.
Related Posts:
Note the upcoming 3rd quarter report schedule may be viewed here:

/index.php/tms-news/2014-news/october-2014/3rd-quarter-reporting-schedule-tms-operating-
VirTex Operating Company, Inc information:

http://tmshorizons.com/index.php/tms-news/2014-news/october-2014/and-then-there-were-6operating-companies-tms/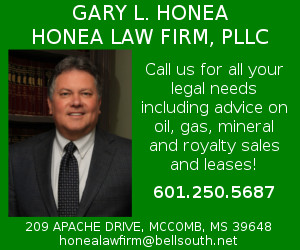 What do you think about it?