MS Oil and Gas Board Meeting
The Mississippi Oil and Gas Board met today at the Regional Workforce Center at Southwest Mississippi Community College.  The meeting was well attended as the picture below shows.  One regular attendee assured me it was the largest crowd he had seen. 
I regret I was unable to attend, but, apparently I didn't miss much.
As an explanation as to why there was such a large crowd, at the September meeting of the Mississippi State Oil & Gas Board there were seven (7) "SUGGESTED TMS POLICIES" proposed by the board and comments were requested. 
When I inquired about the proper way and deadline for making comments, I was emailed this response, in part, from the board's attorney, "The Board will review and carefully consider all written comments timely received regarding these proposals."  I was specifically told that "timely" meant by October 15.

So, as many of you know, I provided a layman's analysis of the proposed policies and sought our readers' input into a response.  Here is a link to my response to item 7, along with links within to the other 6 items.

http://tmshorizons.com/index.php/tms-news/2014-news/october-2014/suggested-tms-rule-7-and-proposed-response/
Yesterday I was told the board would likely not take up these proposed changes until November.  Today it was reported to me by 3 people in attendance at the meeting that the "Suggested TMS Rule Changes" were, in fact, not brought up. 
I was also assured by one attendee that oil operating companies were opposed to many of the changes and would be commenting upon them between now and November.  It was implied that at least one of the oil operating companies in the area wanted to wait until the next meeting to comment, when folks in Southwest Mississippi would not be able to so easily attend.

So, today's meeting was somewhat anti-climatic with regards to the "SUGGESTED TMS POLICIES."  The can has been kicked down the road…away from the folks it most impacts. 

I'm a bit confused and have many questions on this.  For example, did the public, only, have until October 15 to make comments, while the oil operating companies get until November? 
Will the Board actually continue to accept comments and how will they advertise continued public comments are welcome? 
If revised changes are crafted, will there be a public input into those? 
Will the public even have input? 
Are these items to only be taken up in backroom discussions without public input?   
Or, does this Board consist of independent, rational leaders who will look at the situation and do what is best for all concerned?

But, perhaps this is the question I should be asking:
Will the Board simply drop the idea of "reforming" the policies in favor of doing nothing…which appears to be what the operating companies would prefer?

I'm going to presume this Board consists of reasonable and rational people.  I'm going to believe they will follow Solomon's lead in crafting decisions and will look beyond the desires of either mineral owners or operating companies and will, in fact, do what is best for the full and fair development of the play.  Let us all say a prayer for these people to have the wisdom to do the right thing.

Moving on to other matters, it was mentioned today that a 6th operating company would be entering the play soon.   No one has shared with me the name of the company. 
All I can do is guess that an operating company has purchased holdings from the likes of KEW, Indigo and Paloma.  Each of these companies, I'm told, have a fair amount of active leases remaining in the area.  KEW, to my knowledge, has the largest concentration of leases in an untapped area just north of the known sweet spot in Amite County.  Regardless, another rig or two can only help to figure out this challenging shale known as the TMS.
A final point of interest from the meeting was that several unit applications were withdrawn.  I'm told that most of these applications came from Sanchez and Comstock.  The preliminary docket certainly had a lot of carryover applications from several months back, so it is no surprise to see these applications withdrawn.

We'll attempt to learn the final approved units and revise both our wall and our online map.  Things have really gotten muddled at this point.

Here's that meeting picture I promised…Enjoy!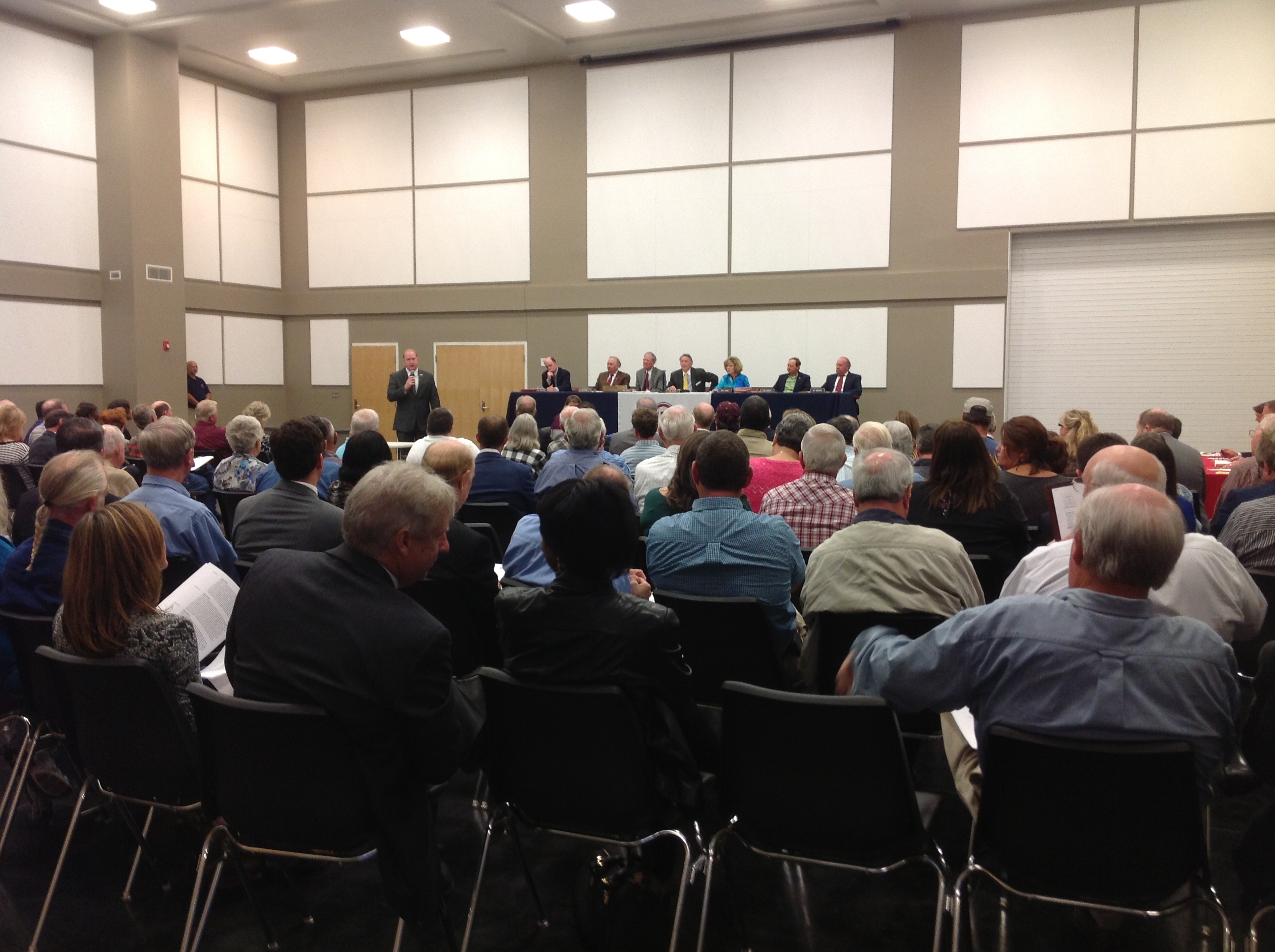 What do you think about it?