Kinchen 51H-1 setting up and Ensign Rig # 753 retiring?
It would appear a new well will be drilling soon, Goodrich Kinchen 51H-1 located in Tangipahoa Parish in the Greenlaw Field.  Access is off of 1053 roughly 1 mile north of Hwy 51 just north of Kentwood. The well should be drilling northeasterly from this location to just south of the Mississippi line. 
The picture below was taken by David Bradham while looking west from his driveway near I-55.
Rumor is the rig drilling this well is the H&P Flex Rig 3 #249. This rig was formerly drilling for Halcon and most recently finished the Creek Cottage well. This will temporarily return us to 9 rigs operating in the TMS.
However, word is this is a replacement rig for the Ensign Rig #753, a rig that has drilled some of the most successful and noteworthy wells in the play.  Currently within a couple of weeks of finishing the  T. Lewis 7-38H-1, this rig also drilled the highest TMS producing well, Crosby  12-1H-1, the highest Louisiana producing well to-date, Blades 33H-1, and such delineation wells as the Nunnery 12-1H-1 and Bates 25-24H-1. 
All in all, we owe a hearty salute to the rig and its crew.  Here's hoping this experienced crew can be assigned to a rig that returns to the TMS to continue building this play into the success it will become.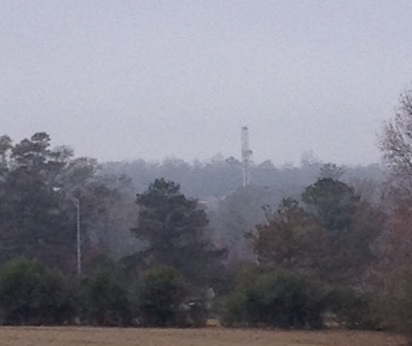 What do you think about it?